Mercedes-Benz Repair & Services
Mercedes Repair, Servicing and Oil Changes in the Kirkland, Bellevue, Redmond Area
Here at Eastside European in Kirkland our team knows that choosing someone to maintain your Mercedes car or SUV can be a tough decision. Mercedes-Benz is a timeless and well established brand that exudes luxury and reliability, and we think the auto service for your vehicle should do just the same. No matter what your needs are for your, AMG, M Class, S Class, Metris or other Mercedes model, our Mercedes repair team looks forward to providing you the best possible repair and maintenance work available, with only the highest quality factory parts, fluids and vehicle knowledge. We look forward to being your local Bellevue Area European auto repair shop and specialists over and over.
Call to Schedule Appointment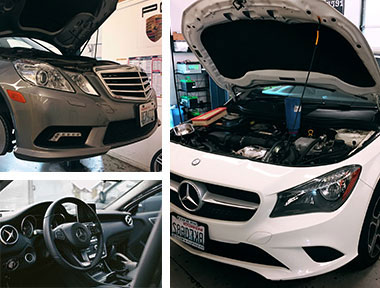 For over 10 years now, we have been your Bellevue Mercedes-Benz auto repair specialists. Our Mercedes repair technicians take pride in being the most reliable, knowledgeable and up to date; whether it's a simple oil change, servicing, or complex repairs for your Mercedes sedan, coupe, wagon, or SUV. If you are looking for a local auto shop that can provide the best possible service for your Mercedes vehicle without paying dealership prices, Eastside European is your shop for the Eastside Area including Bellevue, Kirkland, Redmond, Woodinville Mill Creek and even Monroe. Mercedes-Benz is only one of the many German auto brands that we are proud to specialize in.